Welcome To The

HIGH SCHOOL
"Remember, but do not worship, the past; live for, but not only for, the present, and prepare for, but do not panic over, the future." Daniel Seltzer - Code of Morals


Quick Links:

Class of '67 Classmate Update Form-please click here to update your contact information so we can keep you informed of class activities!
CLASS OF '67 REUNIONS

Save the date:

50th Reunion-October 7th, 2017 at Harry's Savoy Grill in Wilmington, DE.

Check the Class of '67 FB page for more up to date reunion information.

Cost is $75 per person-pls make checks out to: "BHS CLASS OF '67-50TH REUNION" and send to:
Kevin Donohue
4629 Old Dragon Path

Ellicott City, MD 21042
Pls mail checks by Sept 15th, 2017

---

BHS ALUMNI ASSOC FACEBOOK PAGE

"ONCE A BULLDOG-ALWAYS A BULLDOG"

Click here for more information about the Class of '67's "Back to the 60's Weekend" Oct 2-3-09

BHS 50th Anniversary Oct 24-25, 2008 PHOTOS!

Class of '65's Ed Blomstadt's "Mid-60's Reunion" Homage PDF Document-(takes a minute or two to download) but well worth the effort.

Updates, sightings, Classmate News, Nostalgia, etc

Click Here First

Bruce and Susan Kingshill at the Class of '67 marker at BHS recently.

Class of '67 Classmate Directory

Bulldog Birddog Missing Classmate Locator Project includes the original 1967 class roster from BHS!

Complete alphabetical list of ALL 546 members of the Class of 1967

BHS Teachers

Wilmington Garage Bands of the 60's

WILMINGTON, DELAWARE (and it's various environs) Remembered

In Memoriam

Stephen Ware Pie`December 27, 1947 - January 27, 2011

The Class of '67 is now on:

<![if !vml]><![endif]>

Class of 1967 Home Room

ITS MY PARTY! (The Basement Tapes)

1965 "Sweet 16" Basement Party featuring Class of '67'ers and Ba-Ba-Bad..George Thorogood

Class of '67 Message Board
BHS Website

Ye Olde School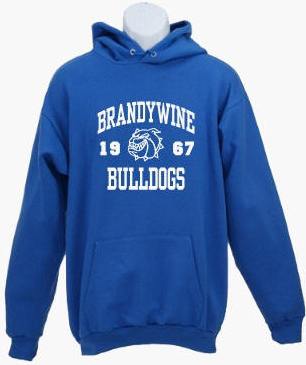 Classmate Birthdays:
2.1 George Johnson, Linda Gray Eater
2.3 Steve Bruni
2.4 Barry Morrill
2.6 Charlie Collas, Barbara Forwald Nycz
2.7 Rob Klausmeier, Jeannie Englehardt
2.13 Andy Stuart
2.14 Dave Gardner, Janice Yorke Davis - Happy Valentine's Day!
2.15 Becky Wittmyer Vye,Jane Rupple Burslam, Martha Hansen Fertman, Sandra Day Oughton
2.19 Sue Powers (Hampshire)
2.20 Anne French Panico
3.1 Beverly Schilling
3.8 Allison Goeller
3.11 Bruce Kingshill
3.13 Bonnie Redmond
3.16 Paul Oberdorfer
3.19 Keith Sagers
3.20 Kathy Fleming Lyons
3.23 Diane Messick
3.24 Linda Simon Berger
3.26 Paula Winchester (Mutzel)
3.29 Carol Ashman, Eric (Rick) Myers, Ed Stair
3.30 Richard Meck
3.31 John Schwind
4.2 Jean O'Connell (Dan's Mom)
4.2 Mary Kerstetter
4.5 Joan Colfer
4.29 Sally Clark Walbert
5.1 Dan O'Connell
5.2 Gail McDonald Reed, Caroline Wiley
5.5 Nancy Northrop
5.10 Sue Kaffenberger Wetzel
5.11 Pat Walker Fox
5.13 Deborah Chavenson Grossman
5.15 Jane MacDonald Toskes
5.19 Jacque Murphy
5.29 Sherrie Markwalder Warren
5.30 Dwight Smith
6.01 Gil "Pete" Scarborough
6.06 Jim Schreyer
6.22 Tina DeGeorge
6.25 Laura Bauman Beitman
6.27 Bob Simpson
6.28 Barbara Ayers McGee
6.30 Karen Batson Miller
7.6 Linda Fuhrmeister (Potter)
7.9 Ann Wheeler (Bullock)
7.25 Ann Wright (Bowerman)
If you want to drop a quick birthday greeting to one of these classmates, just click on classmate directory, find their name (if listed) on the left column and "click thru" to their bio which should list their email address.
See which famous persons born in 1949 and 1950 share your birthdate.
---
Official BHS Class of 1967 Student Directory - From 1967!

Info on over 276 300 311 313 316 335 358 378 384 almost 400! Classmates Now Found!

Help Us Find ALL 547 Class of '67 Classmates By Clicking Here:
---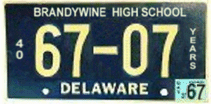 ---
The Class of 1967 Memorial Plaque installed at BHS:

Photo taken 10/21/05 (click on image for larger view)

"For Those Who Dreamed the Impossible Dream" - The Class of 1967

Located in front of the big oak tree (pictured) in front of the BHS Gym, This memorial is dedicated to ALL members of the Class of 1967. Please stop by sometime and take a look and tell us what you think.

Many thanks to BHS Principal Richard Gregg & the 40th reunion committee for making this memorial possible.
---
Class of'67 Era BHS Azsurean Yearbook Covers

'65 '66 '67

The Class of 1967's Official Graduation Announcement-(courtesy of Norm Lack)
---
This website is dedicated to the proposition that the members of the Wilmington, Delaware Brandywine High School class of 1967 were and still are, four decades later, a unique group of individuals in time. This is your story. Please check in, read on and let your fellow classmates know how you've fared over the years. Please have fun! - you've done pretty well, actually. Please bookmark this site and return here often and see who else has signed on. Post your biographical information at the Sign-In and you & your contact information will be listed on the Email directory along with your BHS Class of '67 picture. If you have a suggestion for this site or for something else you'd like to see, please email me or post a message on the NEW message board. Thanks for visiting. Kevin Donohue - BHS Class of '67
---
---

35th & 40th Reunion Organizing Committee: (Left to Right)

---
Where Are They Now?-Lost & Found Bull Dogs - (And How You Can Help Find Them!)

Pictures! Who's this guy on the racing bike? (Hint-that's Norm Lack on the left!) Click on the picture to get a bigger image of Norm.
<1992 25th Reunion at Hercules CC - Click on this double picture
An Extraordinary Picture

(click to enlarge)

---
This website created and maintained by Kevin Donohue, BHS Class of '67 (along with occasional technical help from my son, Peter). For the 35th Reunion and again for the 40th, 45th & 50th reunion, very special thanks go to four amazing classmates & friends: Pat (Walker) Fox, Linda (Fuhrmeister) Potter, SHERRY (CHAPMAN) GRIZZEL & MARILYN (MONSON) NIMTZ. Without the tireless help of these selfless, talented and dedicated individuals, the 35th & 40th Reunions would not have occurred.

Nil sine magno labore - "There is nothing without huge effort".
//-->
View My Stats

This website designed and maintained by
Brandywine High School Class of 1967-Wilmington, Delaware, 1967-2007-40th reunion Kevin Ford Donohue 1967
classmates.com BHS Class of 1967, BHS Class of '67, 40th Reunion, BHS Class of '67 Kevin67, www.kevin67.com