List of Classmates Attending The 35th Reunion at Harry's Oct 4th 2002
Kevin Donohue, Marilyn Monson Nimtz, Pat Walker Fox, Sherry Chapman Grizzel (2), Bill England, Dave and Kathy Lyons Fleming, Paula Winchester Mutzel (2), Janice Yorke Davis (2), Anne Neely Beck, Jack Klingerman, Laura Green Jones (2), Jane MacDonald Toskes (2), Deborah Chavenson Grossman, Gretchen Hardy Mayne (2), Leslie Power Bishop (2), Jane Ruppel Burslem, Nancy Bender Brock (2), Peggi Mitten, Francis Lawn, Maureen Crowley Milford (2), Mike Houser (2), Kathy Denver Lyons, John Schwind (2), Barbara Powell Frost (2), Liz Taylor McBride (2), Chip Mayo (2), Bruce Otto (2), Nancy Northrop (2),Tina DeGeorge Goldrick (2), Janet Fiorentino Conigliaro, Marc Balick, Eugene Grimm, Marilyn Sears Davis, Kathy Berg Shearer, Bruce Kingshill, Cheryl O'Dell Champagne, Candice A. Lloyd Casey (2), Kathaleen Lloyd McCormick (2), Patti Clark, Barb McHugh Buckley(2), Bob Rebmann (2), Terry Yetter (2), Alan Stager (2), Eric Myers, Sally Clark Walbert (2), Jody Oberholtzer Egleston, Miles Johnston, Terry Lindegren Wettergreen, (2), Rob and Linda (Brinton) Harra (2), Lori Gavron Luisi (2), Jane Ramsey Cropper (2), Lynn (Scheible) and Robert Jarrell, Larry Laravela and guest Patty Dougherty, Nancy (Lloyd) Branciaroli, Sue Powers & John Hampshire, Sue Kaffenberger Wetzel (2), Sherrie (Markwalder) and Bob Warren, Dan O'Connell, James Miller (2), George Curtin, Jeff Cooper, Linda Furmeister Potter, Charlie Collas (2), Sandy Molitor Konetski (2), Valerie Nelson (2)
Gil Scarborough (2), Cathy Harrison, Don McHugh, Dan O'Connell, Sue Powers Hampshire(2), Jack Phillips, Steve Bruni, Peggy Munley, Jim Shreyer, Anne French Panico, Jeff Cooper, Bob Kirkpatrick
---
Dress:
"Upscale, but Jackets not required! That leaves some room to be a bit more dressy, but comfortable if you don't get "dressed up"
"somewhat dressy--(for women) maybe a 3-piece outfit or long black dress with jacket--I'm comfortable with men in shirts and nice pants with or without jackets"
"funky - fun, chic-we should make this at least a little special"
"Dressy or business casual, but not coat & tie or suit"
---
Reunion Q&A:
Should I Bring Anything? Just yourself (and your guest, of course if you are bringing one). You may want to bring a personal camera (a few disposable cameras will be supplied at the dining tables). If you have a digital still or movie camera and would like to take a few pictures and would like to share them to be published on this website for all to enjoy-that would be nice.
Should I bring any BHS "memorabilia"?. There will be a table set up to display any items or memories of our BHS era. If you have something you'd like to bring; (program guides, album covers, ticket stubs etc.) for display, please feel free to do so. Just label it so it will be returned to it's rightful owner.
What's happening Saturday Night? Nothing formal or "planned" for the whole group. You may want to get together informally with some of your best buddies on your own.
Will there be music?. Yes, Jukebox John will be supplying a juke box loaded with hundreds of CD's of music not only our era ('64-'67) but all musical genres & years.
Can I pay "at the door"?. Not recommended as we need to let the staff at Harry's Savoy Grill know the headcount for the food preparation several days in advance. If you are not sure if you can make it or not till the last moment, just let Marilyn Nimtz know what your situation is so we can make some food contingency plans.
What's happening at the Saturday Homecoming 11AM (NOTE NEW TIME& LOCATION!) Reception at the BHS MEDIA CENTER. Well, there will be snack food (Mini quiches: mix of onion/leek and bacon/cheese, Pears & cheese platter with honey dipping sauce, Pepperoni & cheese pinwheels, caramelized apples with walnut dip, Grilled chicken mini sandwiches, Dessert items: cream puffs and praline cookies) and drinks and a tour of the school, a chance to meet some of your BHS teachers; (Mr. Guth, Mr. Likovich, Lorraine Przywara, Earl Helmbreck and John Kelleher). You will receive a game ticket to cheer on your old home team. Dress is casual.
---
Dinner Menu at Harry's Defined (by Marilyn Nimtz)
There will be a Cash Bar with every kind of alcohol we can imagine

The Hors d'Oeuvres would be: Assorted Imported and Domestic Cheeses with fresh seasonal fruits and crackers

The Appetizer is: Salad of Seasonal Greens with Cranberry Vinaigrette

The Entrees (choose one) are: Roasted Chilean Sea Bass with potato crust, served with a Red Wine Butter Sauce and haricot vert; Harry's Award Winning Prime Rib served medium with stuffed baked potato and Chef's Vegetable; and Breast of Chicken with Exotic Kennett Square Mushroom Stuffing, Wild Rice Pilaf and Pan Jus.

The Dessert is: Warm Apple Crisp served with a Warm Caramel Sauce and Vanilla Ice Cream
---
The Current Class of '67 Reunion Committee: consists of the following individuals. Much help is needed in finding classmates' mailing addresses and sending out invitations etc. If you want to help, feel free to contact one of the following individuals and volunteer your services. Maybe it would be just verifying emails or mailing addresses of a few close BHS buddies you've kept in contact with over the years. If you've got some reunion ideas, pass them along to the committee.
We will need Wilmington based volunteers in the 12 month ramp-up prior to the 40th reunion beginning around September of 2006. Wilmington based volunteers are needed to handle the myriad of reunion planning details concerning site, food and entertainment selections, back office business accounting, budgets, address and email data collection and management etc, etc. Please think about volunteering your services and contacting the reunion committee-below. It will be the most fun you will ever have with a volunteer project.
Organizing Committee:
DEL-Sherry (Chapman) Grizzel SCGrizzel@aol.com; sherryg@modernmush.com
DEL-Marilyn (Monson) Nimtz mnimtz@svglaw.com
MD-Kevin Donohue donohue11@comcast.net
VA-Pat Walker (Fox) foxbldg@visuallink.com; XOFTAP@aol.com
FLA-Linda Potter lpotter@tampabay.rr.com
---
---
The Class of 1967 State by State Distribution: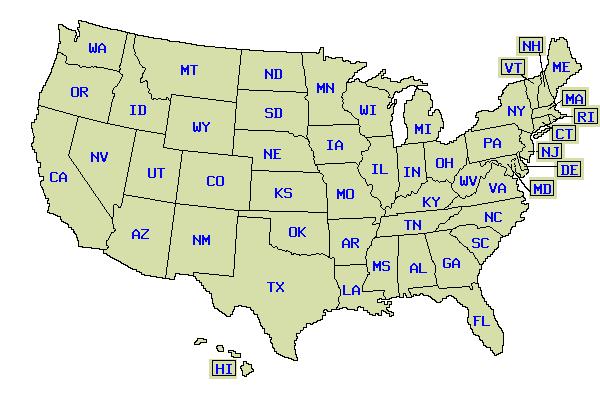 AZ -1 NC -4
CA -3 NH -1
CO -4 NJ -5
CT -2 NY -5
DC -2 OH -1
DE -73 OR -1
FL -11 PA -18
GA -3 RI -2
IL -1 SC -2
MA -1 TN -1
MD -15 TX -2
ME -2 VA -8
MN -2 WV -1